PFAS in Drinking Water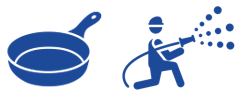 PFAS (per- and polyfluoroalkyl substances) are a class of extremely persistent water contaminants found in certain firefighting foams and many consumer products. PFAS chemicals have been found in public water supplies and private wells across the U.S., including in some Massachusetts towns. There are no federal U.S. drinking water standards for any PFAS chemicals. In June 2022, the U.S. Environmental Protection Agency (EPA) issued updated drinking water health advisories for PFOA and PFOS, 2 of the most common PFAS in drinking water. These advisories are not enforceable. EPA plans to finalize enforceable standards in the fall of 2023.
Some states have proposed or adopted their own guidelines or enforceable standards. In 2020, Massachusetts adopted a drinking water standard of 20 nanograms per liter (ng/L, or parts per trillion) for the sum of six specific PFAS. These six PFAS chemicals (abbreviated PFAS6) are: perfluorooctane sulfonic acid (PFOS); perfluorooctanoic acid (PFOA); perfluorohexane sulfonic acid (PFHxS); perfluorononanoic acid (PFNA); perfluoroheptanoic acid (PFHpA); and perfluorodecanoic acid (PFDA).
Learn more about PFAS
Water is not the only way that people can be exposed to PFAS. PFAS are also found in many everyday consumer products and in some types of food and food packaging. Silent Spring Institute's PFAS Exchange is an online resource center to help communities understand their exposures and protect their health. You can use the "What's My Exposure" tool to understand PFAS results for drinking water and blood tests. You can also learn how PFAS can affect your health and get tips to reduce your exposure and explore our interactive map to learn about known and suspected PFAS contamination sites and the extent of community and government action in each state.
PFAS in Massachusetts Private Wells
In 2021, the Massachusetts Department of Environmental Protection (MassDEP) launched the Private Wells PFAS Sampling Program. MassDEP is offering PFAS testing to private well owners in 85 towns. MassDEP selected communities in which at least 60% of residents are served by private wells and an estimated 20-40 wells per town will be selected for testing. Click here to see a list of the towns in the program. As of May 2022, 1533 private wells had been tested for PFAS6 across the state.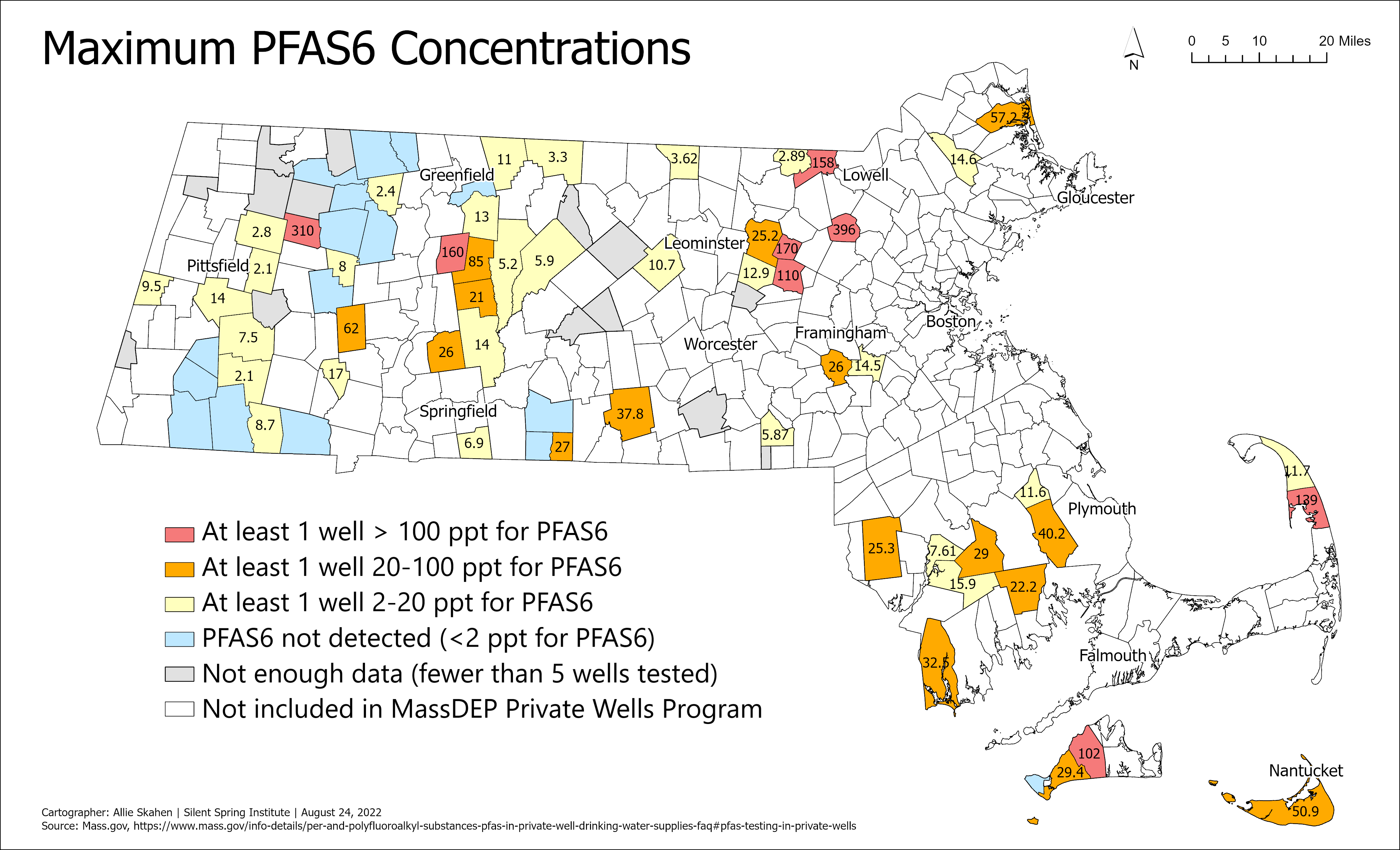 This map shows the maximum PFAS6 concentrations in parts per trillion (ppt) for each town that reported PFAS6 results for at least 5 wells. Towns shaded in grey have had fewer than 5 private wells tested, and towns without shading are not included in the MassDEP sampling program. Note that these maximum concentrations may increase over time as additional wells are tested. In addition, these results may not reflect current levels of exposure among private well owners since some participating well owners may install new PFAS filtration after receiving their results.
Contact your local Board of Health for current information about PFAS6 levels in private wells in your town.
These maps represent data from MassDEP that was downloaded on 5/31/2022 from: https://www.mass.gov/info-details/per-and-polyfluoroalkyl-substances-pfas-in-private-well-drinking-water-supplies-faq#pfas-testing-in-private-wells